Emergency

Management (SMEM)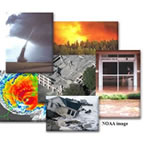 Whether it's a tornado warning at 2pm or a Flash Flood warning at 2am, ReadyWarn is there to get the word out automatically.
Emergency management organizations have begun to utilize Twitter and Facebook as tools for distributing critical information to the public for many types of events including severe weather. ReadyWarn now enables these organizations to deliver critical information to their followers in real-time 24 hours a day..
Since SMS and text messaging updates are integrated into both Twitter and Facebook, followers can receive emergency alerts on their cell phone or other mobile devices even when they are away from their computer.
EM and Public Safety Examples
Grayson, TX - Facebook | Twitter
Navarro, TX - Facebook

Media

Outlets
ReadyWarn helps media outlets deliver critical information to their audience and provides a unique way to monetize an outlet's social media efforts. Increase your number of social media followers, free up a few moments of valuable time, and open the door to generating revenue through social media.
Our first television client, WEHT in Evansville, IN, announced their new ReadyWarn powered Facebook and Twitter accounts at 4:30pm on a Monday afternoon and within one week they had accumulated more than 5,300 Facebook fans and 262 Twitter followers.
WEHT turned its captive and engaged social network audience into revenue by developing a tightly integrated sponsorship package which included on-air spots, online banner ads, custom Facebook and Twitter themes using the sponsors branding, as well as occasional posts promoting the business.
Media Outlet Examples
KFVS TV, MO - Facebook | Twitter
KOKI TV, OK - Facebook
KCRG TV, IA - Facebook
WKRK FM, NC - Facebook
WOKK FM, MS - Facebook
Washington Post, DC - Twitter
Other

Organizations
Parks and Recreation: Keep your campers, swimmers, and adventurers safe by providing severe weather alerts directly to their mobile device via Twitter or Facebook.
Department of Natural Resources: Invite your local outdoor enthusiasts to follow your Twitter or Facebook account and provide them with the latest severe weather alerts while they are out and about.
Chamber of Commerce: Let visitors to your area know when severe weather is about to strike and where to turn for more information.